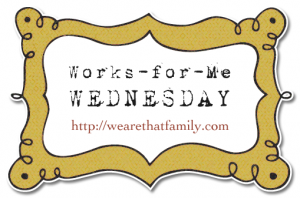 I love love love this blog gathering. Everyone has such neat things to share. On the first Wednesday of each month, the posts are related to a certain topic. The rest of the month is whatever really works for you. So anyhow, todays theme is "Your Favorite Summer Recipe" and I have one to share!
We love Girl Scout cookies, but I'm not even kidding, we don't know any Girl Scouts to buy from. So one day I was craving Thin Mints and came across this recipe. I've rewritten it, but really, it's so stinking easy and so good, it's not one you forget.
Thin Mint Fakeout!
Recipe makes about 50 cookies (unless you eat, say 5 or 6 of them, and claim they make less) and they'll go fast! Don't let the thought of the Ritz cracker turn you off. It tastes like a butter cookie inside all that delicious chocolate.



Ingredients
50 Ritz crackers (you can taste the difference with crackers, so Ritz is the best for this!)
1 bag Andes Mint Chocolate Chips (baking aisle)
4 ounces Semisweet Chocolate Chips (any brand)




Directions
Melt chocolate in the microwave or a double boiler
Dip the Ritz crackers, one at a time, in the chocolate mixture
Lay them on a cookie sheet that you've lined with wax paper
After they've hardened, take them off the sheet, put them on a plate and refrigerate.
They won't last long, so wrap them up pretty if you plan on giving them away otherwise it's too tempting to grab "just one."